Qtech Software partners with AI Based SaaS Startup Vervotech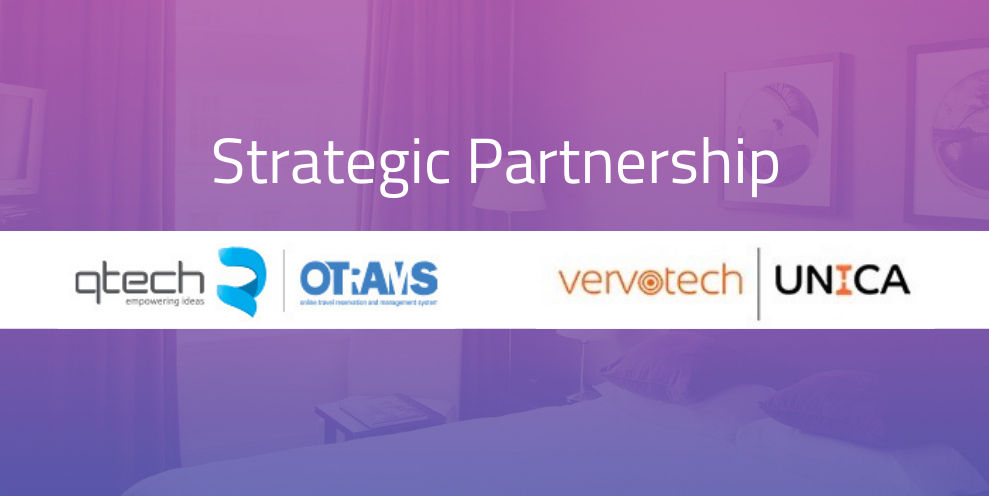 To provide integrated hotel mapping and room mapping to all its customers.
Mumbai, 14 September 2020:
Qtech Software and Vervotech have entered in a strategic partnership to provide Vervotech's UNICA – Hotel mapping and Room mapping platform as an integrated solution within Qtech's OTRAMS – Travel ERP Platform. Customers of Qtech Software will now have the option to choose a mapping solution of their choice.

Qtech Software is a trusted technology provider to travel companies in 36+ countries around the world. It's flagship product, OTRAMS has been awarded the World's Top Travel Tech Platform for 4 years in a row. Through OTRAMS, Qtech provides end-to-end travel ERP solutions.
Vervotech was started with a clear vision to organize all accommodation data with 100% accuracy and completeness using large scale aggregations, AI-based mapping process, and ever-evolving ML models. To do so, Vervotech, last year launched its first SaaS product UNICA for Hotel mapping & Room level Mapping.
"Our customers have always expressed the need for an integrated mapping solution. With this partnership, we are satisfying one more customer requirement. The seamless integration of UNICA on OTRAMS will further improve the business performance and reliability of the system for our customers and deliver a richer experience", said Paresh Parihar, MD & CEO of Qtech Software.
"Qtech and Vervotech share the same passion for building excellent solutions and providing world class service. Initial discussions with our customers have been very exciting and we look forward to scaling greater heights with this partnership", he added.
UNICA is an incredibly futuristic solution that standardizes the distribution of descriptive and illustrative content, maps hotels and rooms in real time to help the agencies maximize the accuracy of travel reservations.


Key differentiators of UNICA that sets it apart from the rest are:
A source agnostic mapping platform.
Maps new suppliers with a speed of 3 million properties per day.
Provides mapped inventory with high accuracy and coverage in real-time.
A self-service portal that gives access to content quality, statistics, mapping percentage, and more.
"We have been focused on business scalability after acquiring numerous large customers last year. Working with technology platforms has proven to be one of the best ways to scale our business.
Qtech has been ongoingly working with its customers for several years now. This speaks volumes of their continuous innovations in taking the product forward. I am excited to start this strategic partnership with Qtech as a Travel Technology Platform since we share similar aspirations to deliver value through innovation by keeping customers at the core", said Sanjay Ghare, Co-Founder & CEO at Vervotech.
About OTRAMS:
OTRAMS is World's Top Travel Technology Platform that digitally transforms travel operations through robust infrastructure, intuitive features and simplicity of use. OTRAMS empowers Travel Companies, DMCs, OTAs, Corporates and Wholesalers with Booking Engines, Supplier Integrations, API Redistribution and Tour Operator Software in a single console.
About UNICA:
UNICA is an AI based SaaS Offering for hotel and room mapping servicesthat unifies properties from each supplier and avoids duplicates to generate a higher number of conversions.
About Qtech Software:
Qtech Software is a technology company that creates intelligent software solutions that drive business success. With over 15 years in the industry, their expertise lies in building robust travel software solutions, mobile travel applications, and custom enterprise applications that drive growth and achieve scale.
About Vervotech:
Vervotech, SaaS Company, was founded by a team of passionate entrepreneurs in 2018 with the vision to organise all accommodation data in the world with 100% accuracy and completeness by using large scale aggregation, AI-based processing, and ever evolving ML models.