SEO for Travel Websites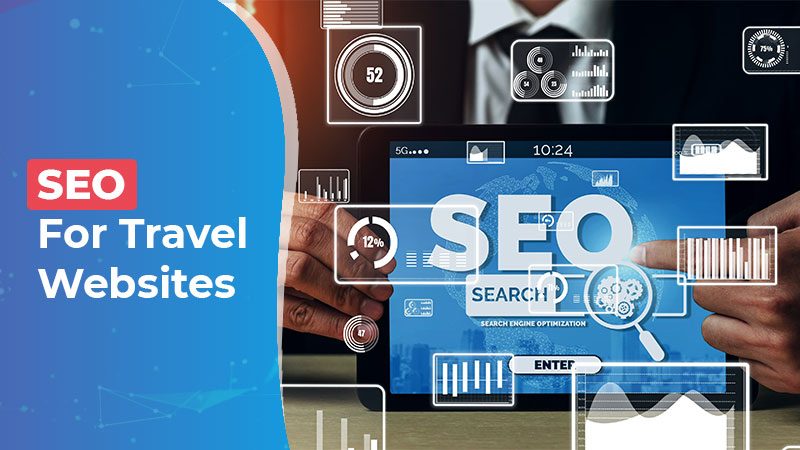 Online travel agents have stepped into the ring, and are putting up a good fight, with a market share of over 40%. When you consider that the industry's gross bookings were $1.6 trillion in 2017. 
Customers these days are considerably more knowledgeable and diligent in their attempts to have a fantastic holiday experience, and often perform thorough research before proceeding with their booking. 
The real catch is for your travel business to appear in their search results. 
Having a travel website isn't enough to get clicks from potential consumers. It would be beneficial if you focused on Search Engine Optimization to drive your consumers to your website and present them with excellent information and services that entice them to do business with you. 
People use the internet to research locations, compare prices, and make decisions. Furthermore, individuals seldom go past the first page of SERP results. 
You may either engage in a pay-per-click ad campaign or go with organic SEO for travel websites to get to the top page of SERPs. The latter, while time-consuming, can have a long-term impact on your site's search results.
Organic SEO may get you a higher ranking on the search results page more effectively and for a longer period of time than the more expensive pay-per-click alternative. 
The Importance of Travel Search Engine Optimization
You may have the finest website and a wealth of services to offer, but until your consumers find you on the internet, they will be unaware of your presence. SEO Travel Website
More leads might be generated via SEO for your travel website.

 

Organic SEO is far less expensive than paid SEO.

 

It helps drive targeted and potential visitors to your website.

 

It will increase the visibility and authority of your travel website.

 

Achieving strong rankings will result in consistent visitor flow to your site, which will provide growth chances for your company.

 
Best Practices for Improving Travel Website SEO
Create a mobile-friendly website.

 

Make use of responsive web design.

 

Page load time should be reduced.

 

Optimize your image.

 

Avoid using tiny text.

 

Use of tiny touch components should be avoided.

 

Avoid Flash Animation.

 
Using keywords, create a path to your website.

 

Make use of social media.

 

Begin writing blogs.

 

Create Links from Reputable Travel-Related Websites.

 

Include Navigation on Your Website.

 

Make use of eye-catching visual content.

 

Use Breadcrumbs.

 

Create a Schema Markup for Your Website.

 
You may also read How our Google Analytics Integration for Travel Websites may benefit your company! 
With the number of online travel sites on the market continually expanding, it is critical to maintaining a strong online presence. SEO, or search engine optimization, is critical for any online travel company to boost their online presence in search engines and rank higher on search engine result pages. 
Our Search Engine Optimization team is experienced in the online travel business and can assist you in developing your brand within the online travel community, resulting in long-term sustainable results. The goal will be to boost your online travel website's search ranking and attract targeted visitors to your site. Our SEO services complement the implementation of our online travel reservation and management system, OTRAMS Software. 
The OTRAMS B2C platform is made available to clients through the adoption of a customized SEO strategy that develops deep links for the site. 
We recognize that each client's demands are unique, thus we give personalized solutions depending on each customer's business requirements. Whether you require SEO consulting, portal optimization, or backlinks from powerful, relevant, and prominent websites, we can help you achieve success in search engines.