Join Us at ITB Berlin NOW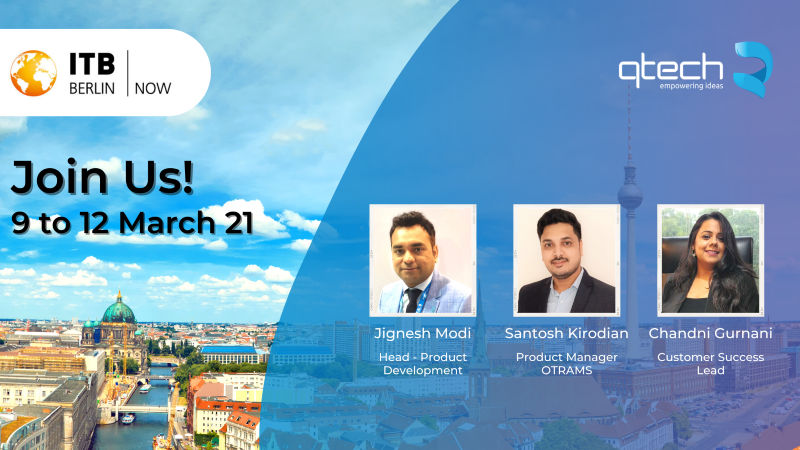 Join our Experts at the ITB BERLIN NOW CONVENTION
2021 is a year of turning setback into comeback. And this is what our experts will help you do, to evolve in the new age of travel.
With information available at their fingertips, customers are making more informed choices with each passing day. So, it is up to the travel agencies to fill up any technological gaps in their business model to deliver a top-notch service.
While the restrictions on travel are slowly getting lifted, it is necessary to restore traveller confidence, reduce overheads and start planning for upcoming changes in the sector. Full recovery of the tourism sector can take a long time to recover, it is also a good time for embracing a safe and secure technology that can strengthen the foundations of your business.
Connect with our Experts at the ITB Berlin NOW from 9 to 12 March 2021:
Jignesh Modi – Head, Product Development
Santosh Kirodian – Product Manager, OTRAMS
Chandni Gurnani – Customer Success Lead
to know more about how technology can empower your travel business and drive the next phase of growth for you.
You can now attend the event for Free!
To avail your free pass, fill and submit the form below. Your pass will be sent to you on your email.
About ITB BERLIN NOW CONVENTION
What we're experiencing with COVID-19 was unimaginable for all of us. The tourism world has gone off the rails, COVID-19 has plunged the travel industry into a deep crisis of existence and purpose. And one thing becomes apparent: There is no return to an old normal. Customers will change their travel behavior, tourism providers will exit the market, others will emerge stronger from the crisis.
But we also see crises as opportunities. In crises, undesirable developments can be corrected, better things can be created. The ITB Berlin Now Convention 2021 will make its contribution by:
Offering orientation in nebulous, dynamic times
Providing food for thought for the new purpose of our industry
Illuminating innovative strategies and business models
Providing support for the restart of tourism companies
Visit the event website here
Learn more about Qtech Software's Technology Solutions:
OTRAMS Travel ERP | Connect Umrah | RateNet Travel API Hub | EZBooks Financial Accounting