ATM 2023 Comes to a Successful End!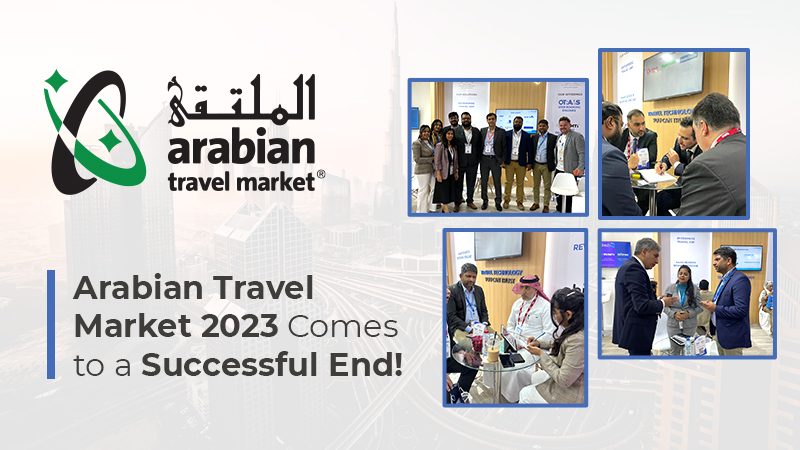 The Arabian Travel Market (ATM) of 2023, Dubai had a very successful turnout, attracting top companies from the travel industry. The exhibition served as a valuable opportunity for travel professionals worldwide to showcase their services and products. It also helped them establish relationships with industry peers and identify new business prospects. The 30th edition of Arabian Travel Market (ATM) was attended by more than 40,000 people, including 30,000 visitors. Their theme of 'Working Towards Net Zero', resonated with the participants, which will play a huge role in making travel more ecofriendly.
Qtech Software has participated in ATM for years, and we are pleased to report that this year's event exceeded our expectations. The ATM served as an ideal platform for exploring potential collaborations for Qtech Software and our subsidiaries rePUSHTI and Bizinso. Our teams established connections with potential customers, travel agents, and tour operators. These customers expressed a strong interest in leveraging technology to enhance their business operations.
As a result, we were able to increase our market share and broaden our customer base. We also strengthened our ties with our existing partners and clients, reinforcing our shared vision of using innovative technology.
Being a leading travel technology provider, our aim is to be at the forefront of providing solutions to travel companies around the globe. It is our pleasure to lead the charge for digitizing the travel industry.
One of the key benefits of the Arabian Travel Market was the opportunity to exchange knowledge and ideas with leading industry professionals. This allowed us to gain valuable insights into travel trends and customer preferences. We observed that travel agencies are responding far more positively to technology than in the past. We also noticed that travel companies recognize the importance of technology in their business and are ready to invest in it. These insights will help us tailor our products and services to meet our customers' evolving business needs.
Here are a few ways it has helped the industry grow:
Tourism: One of the most notable outcomes of the Arabian Travel Market is the revival of the tourism industry. The world has rallied to promote tourism, and the ATM has been a key driver of this upsurge. It has provided suitable ground for tourism to revamp itself and respond to customers' needs and wants.
Sustainability: ATM's theme for 2023 is 'Working Towards Net Zero' will be a game-changer for the industry. The theme of sustainability promoted conversations on eco-friendly travel options and emphasized the importance of protecting natural resources. This is essential to ensure the long-term viability of the travel industry while protecting the environment.
Innovation: Arabian Travel Market (ATM) has driven progress and development in the travel industry. Its impact can be seen in the industry's renewed focus on innovation. We are confident that the learnings and alliances gained at the ATM will continue to shape the travel industry's future for years to come.
It is events like ATM that keep the travel industry vibrant, and engaging, while providing customers with the best products and services. Furthermore, it keeps the industry competitive, allowing businesses to stay ahead of the competition. We close this Arabian Travel Market with positive energy and look forward to the ATM 2024.