Ideal Online Umrah Booking Tool for Travel Operators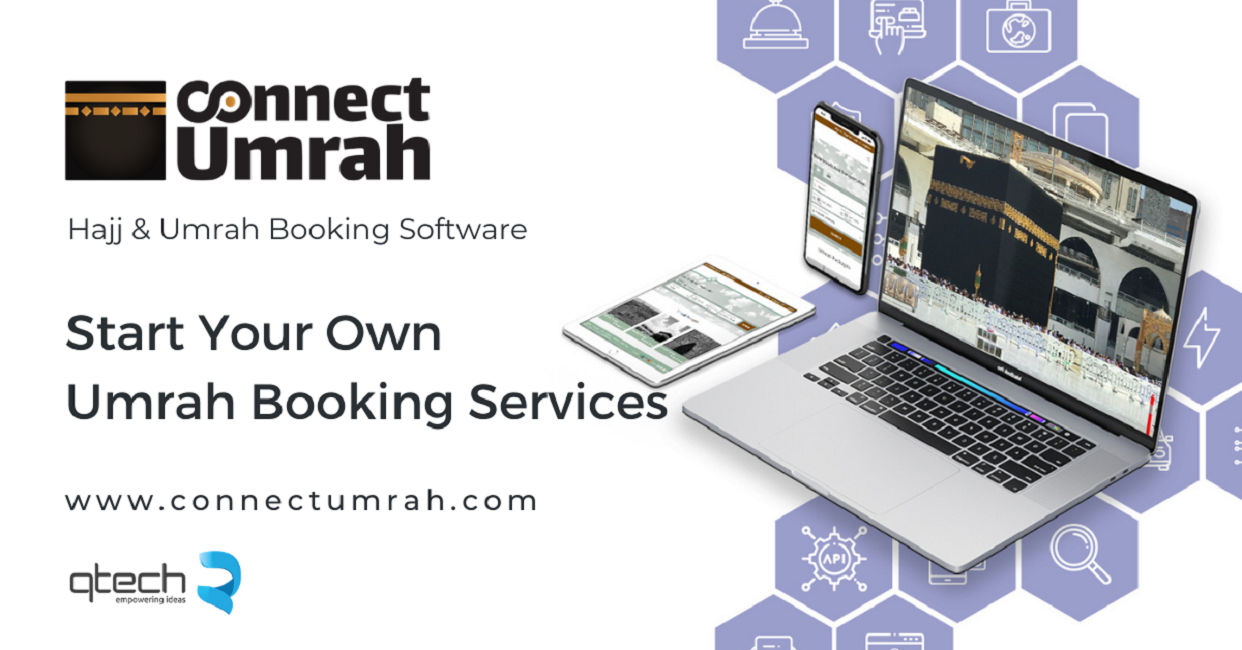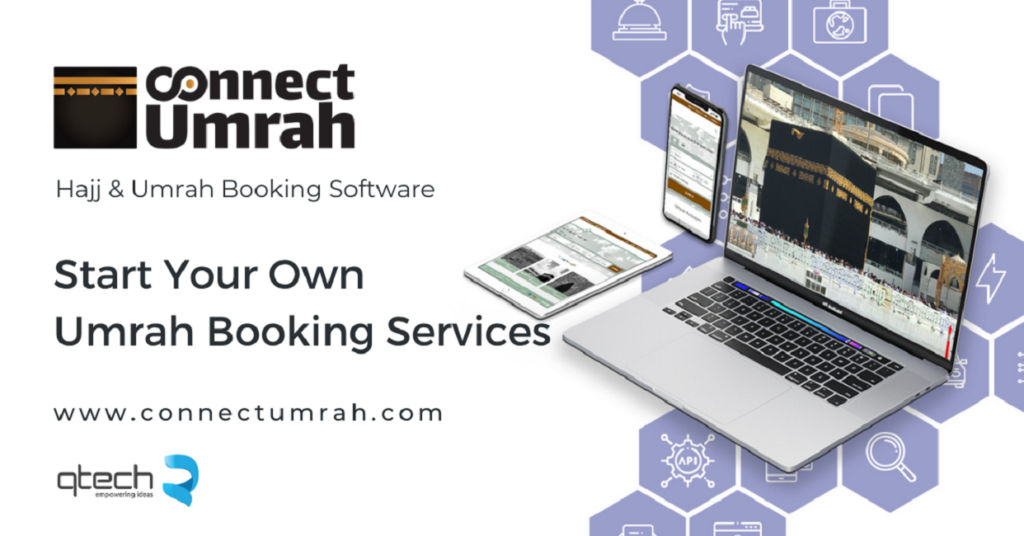 Travel Operators, Consolidators, Online Travel Agencies who wish to start online Umrah booking services can now leverage Connect Umrah by Qtech Software.
Mumbai – 05 November 2020,
Saudi Arabia opened its borders for Umrah pilgrims all the over the world from 1 November 2020. To facilitate a seamless booking experience across B2B and B2C Umrah Booking Services, Qtech Software has launched their specially developed technology platform – CONNECT UMRAH.
Connect Umrah is cloud based, ready to deploy solution for all Travel Operators who want to initiate Umrah Booking Services, digitally. It readily integrates with the Central Reservation System of Saudi Arabia (MAQAM GDS) to provide a fast and easy booking of Hotels, Transportation and Ground Services. Additionally, CONNECT UMRAH also provides direct integration with e-visa services.
Announcing the launch, Paresh Parihar, MD & CEO of Qtech Software said, "We have coupled our 15+ years of Travel Technology Experience with the magnificent Vision 2030 of the Saudi Arabia Government to provide ease of access to Hajj and Umrah Services. This will also pave a way for recovery of the Travel Sector in the days to come. We are extending the best our technology to all our customers and travel operators around the world with Connect Umrah."
The Ministry of Saudi Arabia recommends providing B2B and B2C services together to all Umrah Operators and External Agents. Keeping this in mind, Connect Umrah features B2B and B2C modules with services specially designed for each set-up. The integration has been certified by ministry through a project that has already gone live recently.
Through Vision 2030 the Government of Saudi Arabia wants to welcome the maximum possible number of Mutamers / pilgrims for Hajj and Umrah. In 2019, over 19 million pilgrims performed Umrah and over 2 million pilgrims performed Hajj. These numbers are set to increase in the future with the efforts undertaken by the Ministry of Hajj and Umrah, in providing ease of access to Hajj and Umrah Services.
Jignesh Modi, Head of Product Development, Qtech Software said, "Our teams have been stationed in Saudi Arabia for the last 2 years to keenly understand the Umrah services and have developed Connect Umrah directly in partnership with our customers in the region and the ministry as an extension. This has allowed us to create a solution completely customized for Umrah Booking Services. We are excited about this launch and want to share our experience in providing fast and easy services to all Umrah Operators and Agents."
Hajj and Umrah is an important journey for every pilgrim. By enabling smooth services and providing an enriched booking experience, Travel Operators and Agents can service this journey. Connect Umrah will help all Travel Agents, Consolidators, B2B and B2C Travel Companies, all over the world who wish to start their online Umrah Booking Services.
About Connect Umrah: (www.connectumrah.com)
Connect Umrah is the most advanced Hajj & Umrah Booking Software developed by Qtech Software. Connect Umrah offers seamless booking experience across B2B and B2C for all Umrah Operators and External Agents.
Travel Consolidators, Wholesalers, Online Travel Agencies who are looking for a plug and play solution to start their Hajj & Umrah Booking Service can leverage the technologically superior and advanced booking engines present on Connect Umrah.
Connect Umrah provides the complete Booking Software for Hajj and Umrah Booking with in-built features like Hotel Booking, Transportation Ground Services and Visa Application.
About Qtech Software: (www.qtechsoftware.com)
Awarded World's Leading Travel ERP Technology Provider 2017 to 2019 & Middle East's Leading Travel ERP Technology Provider 2017 to 2020.
Qtech Software is a technology company you can trust. With over 15 years of industry experience, our expertise lies in building robust TRAVEL SOFTWARE SOLUTIONS, MOBILE TRAVEL APPLICATIONS, TRAVEL PORTAL DESIGN, and ENTERPRISE APPLICATIONS that drive growth and achieve scale.
Our deep expertise in travel technology has enabled us to create one of the best travel software solutions in the industry. Our customers and partners attest to the capability and performance of our travel software solutions, which is visible through our long-standing associations and continuous growth.
Facebook: https://facebook.com/qtechsoftware