A Complete Guide to Utility and Creation of Travel Mobile App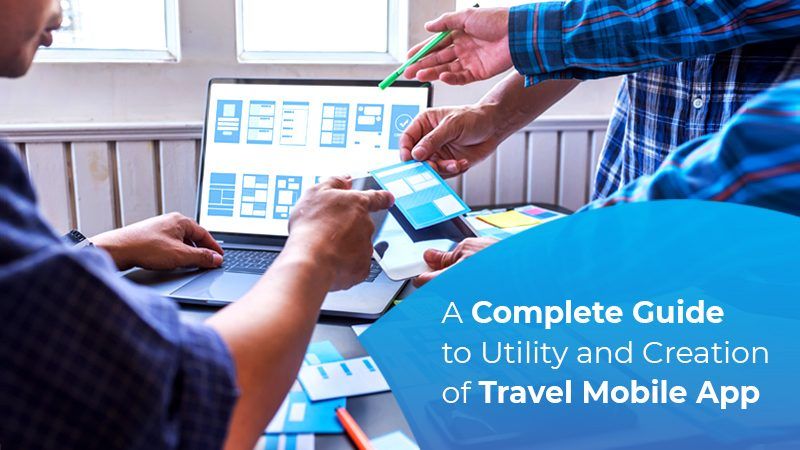 Smartphones are a part of our everyday life. Smartphone users are found in every country and use a bevy of apps in their day-to-day lives. The total number of smartphone users across the globe is estimated to be around 6.6 billion in 2022 and may reach 6.8 billion by 2023. This number will only keep increasing as the smartphone and access to the internet becomes cheaper.   
People use their smartphones for everything from ordering food, working, playing games, and even planning their travel activities. Smartphones also happen to be the one thing that people take with them when they travel. So, this is a device that plays a huge role in both the before and duration of the travel. What makes a smartphone so important are the apps that power its utility.   
Mobile apps have taken the world by storm and the travel industry isn't one to be left behind. Technology has the power to make the process of travelling easier and more effective right from the planning phase. Travel apps are what make this process work as finely as it does.   
Travel apps did see a decline in popularity during 2020 but by 2021, they made a splashy comeback. All travel companies need to understand that your presence online is incomplete unless you have an app that allows your customers access to your services. 
The World of Mobile Applications
The mobile application market is a thriving one across the globe. 64% of global mobile app downloads come from the APAC region alone. That being said, not all apps have the same lifespan. Some apps are uninstalled within seconds of download and installment. The sheer number of apps released on both Android and iOS is staggering.   
The iOS Apple App Store is one of the most popular mobile app vendors on the planet, offering 1,711,433 apps. On the other hand, we have Android with Google Play hosting over 3,496,481 apps. These apps play a huge role in everything from entertainment to running businesses. The number of applications is set to rise in the coming years as people now rely on their smartphones to give them access to the world at their fingertips.   
Travel Mobile Applications
Traveling has always been a booming industry with billions of people dependent on various facets of it for economic reasons. The number of travelers has only increased over the years. Online travel bookings were at a booming $755 billion in 2019, before declining 46% to $403 billion in 2020. This is understandable as the world is in the grip of a global pandemic. However, with vaccinations and safety protocols, the travel industry is back in action. This is evident in the fact that travel bookings increased to $613 billion in 2021.   
Some travelers plan and execute their trip themselves while some use a travel company. All of them use technology in some way. Many of them rely on travel apps. Travel apps have climbed up the popularity ranks simply by being easy to use and access.   
What are the Benefits of a Travel Application for a Travel Company?
1. Better Customer Engagement
Travellers can be notified of important information using mobile apps through push notifications.
Offerings, promotions, discounts, reminders, and updates can be sent via push notifications.
Users pay attention to information and this ensures better engagement.
Clicking on push notifications will lead the customers back to the app or to the website.
Which is not just for leading the customers to your app or website but also a smart marketing tool.
2. Access To Real-time Content
Travellers can access important information during their travels on their mobile apps.
Travellers will need access to local as well as international information, all of this can be swiftly conveyed with mobile apps.
Information on weather, government advisories, currency rate changes etc. can be provided through mobile apps.
By providing real-time content, you can ensure that customers have everything they need to make their experience as smooth as possible.
3. Location-based Services
When people travel, they want information and services that are destination-specific.
It adds to the travel experience and can be essential to the travel itself.
With the help of mobile apps, users can access location-based services.
With the availability and access to GPS, travelers can search for location-based restaurants, local tourist spots, and much more.
4. Proving Personalized And Customized Services
Travel apps can be used to display information and content based on the user's history of buying behavior, location and browsing pattern.
This allows you to show them relevant information and provide services that are more likely to be preferred by them.
You can personalize their experience by saving their previous searches and recommending services customized to their needs in the future.
How to Develop a Travel Mobile Application?
Creating a mobile app starts with the basic question of what do you expect this application to do for your business?   
Here are a few key pointers:    
What type of services do you plan to offer?
The most important question while building a travel app is knowing the kind of services you wish to provide. The customers who will be using your app expect features that will make their life easier while traveling. Instead of loading your app with different services, narrow it down to the ones you know customers will prefer.   
Ensure that your travel app focuses on the unique services that you provide. It could be the packages, the locations, activities, or discounts. Ensure that your USP is highlighted and the customer can differentiate it from other apps  
Know your customers well. There are mainly two types of travelers: business travelers and leisure travelers. They both travel for different reasons and have different needs. Your app should be able to meet the needs and demands of your desired customer type. Your flow of information in the app will change accordingly.  
For e.g., Business travelers might need airport transfers, car booking, and currency converters more often. On the other than leisure travelers need packages as they prefer exploring destinations and want to use apps to make their bookings. Your booking flow, UI, and information you display will depend on your customers.   
How to Shortlist a Travel App Development Company?
Choosing a mobile app development company that will design your travel app is one of the prominent factors. There are many things you should consider while choosing the company that will eventually develop the app for you.   
Experience –

The company has experience in creating travel apps. Their experience will be a key factor in helping them understand your needs and create the app accordingly.

  

 

Expertise –

The team that builds the app must be skilled at their task. They should be able to understand what their clients want, anticipate the needs of the traveler who will use the app, and build the app accordingly.

  

 

Impressive portfolio –

Look at their prior work. Check the other travel apps they have created. If the apps they have created are working well and are good enough for the customers to use.

  

 

Cost –

The entire process should be cost-effective the services should be reasonably priced.

  

 

No hidden charges –

They must be transparent not just with their changers but with all the clauses of the work. They should be transparent in business dealing.

  

 

Customer support

– They must offer the best customer support. They should offer your team training support and if necessary, maintenance.

 

 

Reviews

– Check out the review of the previous customers. If they don't have good reviews or some customers are unhappy with their work, it indicates a problem.

 

 
After hiring the development team for your app, the next step is the process of creating the app. There are a few essential steps in this stage of app development.  
Your app must be free of bugs, errors, and any other issue that might prevent a user from having a fulfilling experience while using the app. This is an essential step in the in-app building as it is a form of quality check that tests every feature of the app. The app is thoroughly tested to ensure it is bug-free and ready for deployment.   
The last and final stage of app creation is the deployment of the apps. After it's been through the necessary tests for quality check it is hosted on the App Store or Play store. The end user can download the app from here.   
Key Technologies to Consider While Developing the App
The travel app you create is going to be used as a means of communication. It should have the technological capability to do so.  
Connection to social media:

The app must have the ability to connect with social media. People tend to share information, stories, images, and videos on social media. Moreover, it's easier to send them information regarding travel, tickets, transfers, etc. on messaging platforms such as WhatsApp. Connection to such technology is important.  

 

AR/ VR:

Travel companies all over the world are now using Augmented Reality and Virtual Reality. Travel companies have been able to integrate Augmented Reality, Virtual Reality, and many other hi-tech features that have changed the way people choose and plan their travel itinerary.   

 

Connection to payment channels:

Connection to various payment gateways and payment channels is important. Your customers should have ease of payments. So, your app must integrate with payments gateways, it should have the ability to accept payments, and be compatible with EWallet's, crypto currency etc.  

 
A mobile app offers a wide range of services and utilities. As such, designing it can be challenging. To have a mobile app that serves all your business purposes, you need the best technology provider. Having a travel mobile is not a question of 'If' your company needs it, it's about 'when', your company has it. Travel mobile applications are not cosmetic features, but a serious avenue of conducting business and retaining customers.    
Popular Questions on Travel Mobile App Development
Which features are essential to a travel app?
A travel app should have services like Hotel, Flight, Activities, Transfer, Car Rental, Groups, and Visa bookings.  
What is the cost of building a mobile travel app?
This depends on the travel technology provider that is creating the app.  
Which technology is used by travel companies to create mobile apps?
This is subjective to travel technology providers. One such provider, OTRAMS uses Native Android and IOS applications. For Android they use Kotlin and for IOS they use Swift to develop the app. For Notification, Analytics and Crashlytics they use Firebase.  
Are mobile apps safe to use?
Yes. Mobile apps are built with security features to keep customer data safe. It incorporates measures like PCI DSS compliance, GDPR data compliance, and security protocols for end-to-end encryption and data privacy.  
In what time frame can a travel app be created?
The time needed to create and develop an app is 6 to 10 weeks. However, this can change depending upon complexities, features, suppliers, services etc. 
Will my travel app need maintenance?
Your travel app will need maintenance but only for serious issues. Your travel technology provider should help you with these if the need arises.