Travel API is Changing the Travel Business – Learn How!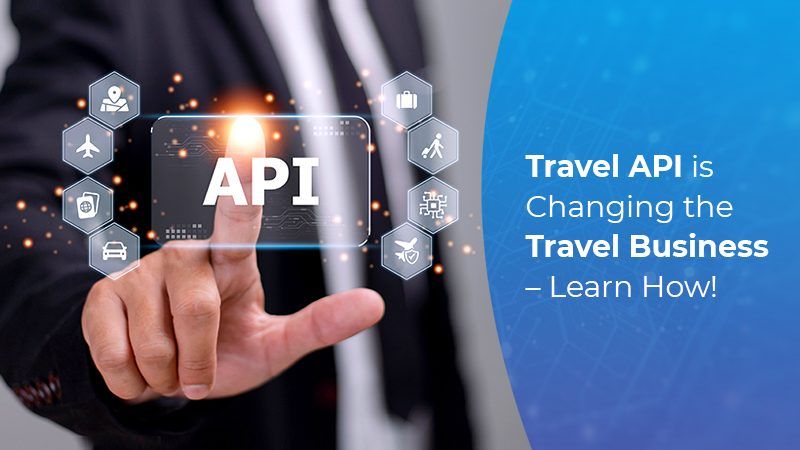 APIs are the backbone of the cloud, mobile, and Internet of Things revolutions (IoT). With APIs, data can be shared instantly, efficiently, and seamlessly, enabling all our modern technologies and innovations. Everything from how we order taxis, transfer money between bank accounts, watch entertainment, share information on social media and make travel plans involves API.   
The internet and APIs have changed how people make their travel plans. The online travel industry has become a digital ecosystem, and travel companies are well aware of the need to join it. The ecosystem consists of hotels, airlines, car rental agencies, and all-in-one booking platforms sharing information. APIs are essential to making this ecosystem possible.  
Travel API makes it possible for travel companies to offer the most competitive travel deals and content from global travel suppliers. In turn, this allows agents, tour companies, and travel companies to provide the most appropriate travel options for their customers.  
APIs allow travel companies to access airline, hotel, transfer, and sightseeing content in real-time. Using the Travel API, they check availability and prices from multiple consolidators.  
Every travel booking has three to four parties involved.  
Step 1:

Traveler makes a booking online for a hotel room on a travel agency's travel website

 

Step 2:

Website gathers its feeds through a wholesaler which is connected through a real-time API. 

 

Step 3:

This wholesaler gets its content from hotel providers like Expedia or Booking.com. 

 

Step 4:

Depending upon what the search is for, the request is sent to multiple channels. This is for checking availability and then the result is displayed for the traveler to choose from.  

 
For booking requests, the process more or less remains the same. OTA receives booking request, which is passed on to the Wholesaler who then passes them on to the supplier. The confirmation of the booking is then sent to OTA completing the process.   
A hotel API enables searching and booking hotels online. You can use these Hotel APIs to offer your customers the best hotels to stay-in, based on availability, and type of accommodations. Hotel room inventories are provided by several companies. You can connect to their APIs to get specific room information, book rooms, and cancel reservations.  
All online travel agencies that are servicing domestic and international customers need to have a wide inventory of hotels. This is made possible by adding APIs of various Hotel Suppliers. Travel businesses can create a complete bouquet by adding APIs from popular suppliers like Expedia and Booking.com and also adding specialty suppliers like Restel and Travco.  
Having a mix of different suppliers helps the travel businesses to create a wide variety of choices for their customers. All of this is made easy and viable for the travel businesses by hotels API.  
Some of the best Hotel API providers:   
Booking.com  

 

Expedia 

 

Hotelbeds 

 

Webbeds 

 

World2Meet

 

TBO Holidays

 

Restel Hotels 

 
Flight APIs give travel companies access to flight deals provided by flight service providers and consolidators. Flight API enables airline, travel agency, and tour operator users to book roundtrip, one-way, multiple cities, and group flights worldwide.  
Flight APIs are useful for IATA and non-IATA agents. In case of IATA agents, flights API make it possible for them to connect with global GDS systems like Amadeus and Sabre.  
For Non-IATA agents, providing flight booking on their websites is made possible by adding APIs from various flight consolidators like Mystifly and TBO Air.  
Globally, online travel agencies also leverage integrations with local low-cost carriers (LCC) through their own APIs. This enables the travel businesses to directly work with LCC airlines and provide highly competitive fares to the customers.  
Flight APIs have made flight booking real-time and dynamic, which was not the case earlier.  
Some of the Flight API providers for you to consider:  
Transfer API allows your travel companies to provide ground transfer services. Your customers can book transfer service to hotel or to next flight once they reach their destination. For example, you are travel company based out of India, your customer is traveling to Dubai. To ensure that your customer has a hassle-free service available you need to have API from transfer provider integrated into your website.  
Its best to have access to Transfer API providers who can help you provide services across the globe.  
Hotelbeds is one of the most popular transfer API providers.   
Car Rental APIs allows travel companies to book rental cars and process reservations online. Travel companies who have customers across the globe can benefit by having car rental API that allows them to provide easy car rental options. This is made possible by integrating direct APIs from major car rental service providers like Carnect, Europcar or Hertz. They provide their APIs which can be added into the travel agency's portal.  
Travel agents can book car for customers from whichever city they are by fetching from the inventory. Car rental APIs allow travel companies to create travel packages that include car rentals.  
Some of the best Car Rental API providers:  
Carnect  

 

Kiwi Taxi  

 

Europcar  

 

Hertz
Travel and tourism are not complete without tours, activities, and sightseeing. Customer love a good travel deal or a package that is built to provide an exciting experience. With Tours and Package API Integration, you can provide this to your consumers easily.  
For eg, you have customer who wish to travel to Sydney, Australia but your agency is based in Mumbai. With Travel API, your customers will be able to browse all information about travel packages on your travel company website. The content and inventory for all these packages is procured by integrating with tours and packages API. Your customer can plan and choose the deals they want and explore the content readily available to make informed choice.  
These APIs help travel agencies provide exciting prepackaged travel deals apart from hotel, flight and transfer services. Customers can access tours and packages in real-time, which allows you to offer travelers better and more enticing deals.  
Some of the best Tours and packages API Providers:  
Hotelbeds 

 

Viator  

 

Experience Hub  

 
Grow Your Travel Business With API Redistribution
Your business can and should have access to different sources of growth and revenue.  You can easily boost your revenue with API redistribution.  
Who should sell their API?
If your business specializes in providing services that are high in demand or you have contracted rates of certain products or services, you can market this content by distributing your API. Redistribution of API for services and products depends on what is attractive for the buyer and viable for the seller. 
Here are a few scenarios that can help you understand this better.  
Scenario 1 
You are a travel company that has integrated major travel suppliers like Expedia, Booking, W2M, WebBeds, HotelBeds etc. You can monetize your content by redistributing the API you acquired from all the major suppliers.  
Scenario 2  
You are a travel company that has a good collection of directly contracted hotels. You have a good number of hotels that you have contracted in your region. This can become a unique selling proposition for you. Distributing this content via API is viable for you as there will be quite a demand for these hotels from travel companies marketing in that region.  
Scenario 3 
You are a specialty travel provider. Let's say you specialize in providing wide range of car fleets or specific type of cars. These becomes an attractive proposition for you as you can people will be interested in integrating your API. 
OTRAMS by Qtech Software is partnered with all of the above-mentioned travel API providers and more. OTRAMS is one of the most powerful travel technology platforms. Using our expertise and technology, we can help travel businesses chart their business growth.
Learn How to Leverage the Power of APIs for Your Travel Business With Us.